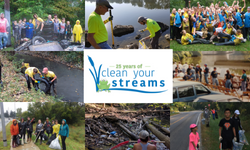 For 25 years Clean Your Streams has been held in the Maumee Area of Concern (AOC) to work towards removing BUI 11, Degradation of Aesthetics. Clean Your Streams Day started in 1997 under the Remedial Action Plan Committee at TMACOG. 1997 was the first Annual Maumee Watershed Clean Your Streams Day with 2 kickoffs, with streamside locations near Swan Creek and Ottawa River. 60 volunteers removed 4,000 pounds that year. Since then, Clean Your Streams Day has grown significantly, undergone changes, and achieved milestone markers.
Three years later in 2000, there was a third Kickoff added to focus on the Middle Ottawa River with 100 volunteers. Clean Your Streams Day kept expanding and the fourth Kickoff was added for eastern tributaries of Maumee Bay. 2004 was a landmark for Clean Your Streams Day. In that year over 10,000 pounds of trash were removed from the AOC. 2005 brought the inclusion of Olander Park as a Kickoff Location, with 123 volunteers there for their first year. International Park was started as an Eagle Scout project by a high school rower tired of seeing all the trash floating in the river (and he is our website & newsletter guru still today!) and the University of Toledo was added in 2008 (the year it rained, the whole time…). By 2012 there were 425 volunteers at the University of Toledo alone. In that year, 22 more sites were cleaned than in 2011. 2015 Clean Your Streams Day hit the mile marker of more than 10,000 CYS volunteers since 1997!
Rainy days did not dampen the results of the 20th Anniversary of Clean Your Streams Day, and by this time a core group of planning team partners had become a well-oiled machine! In 2018, a record number of marine debris was removed – over 35,000 pounds. By now, volunteers had come across almost everything imaginable – film negatives, antique sewing machines, couches, safes, an ATM, water heater, prom dress, pipe organ, plastic pickle, blender, e-scooter, and much, much more. By 2020, even Covid could not deter Clean Your Streams Day. Partners for Clean Streams began a remote, clean-on-you-own option to encourage volunteers to choose their favorite or nearby spot to clean up during the week leading up to CYS Day. 431 volunteers safely removed 16,957 pounds of marine debris, covering areas we had not ventured before, such as the shore of Lake Erie in Sterling State Park!
The 25th Anniversary, like the 20th Anniversary, saw a rainy anniversary. Still, volunteers came out in the hundreds to help improve the aesthetics of the Maumee River, Swan Creek, Ottawa River, Grassy Creek, many other ditches and creeks, and ultimately, Lake Erie.
Starting in 2007, Clean Your Streams Day was organized under the stand-alone non-profit, Partners for Clean Streams; and is still organized by Partners for Clean Streams today to help the BUI and many other marine debris programs in the Great Lakes. It is grown beyond focusing on the AOC to go upstream or to other rivers as needed. To date 368,611 pounds of aesthetically harming trash have been removed from Northwest Ohio, in and out of the Area of Concern. All because volunteers want to make a difference and our partners have been committed to continuing the tradition that a small group of people started back in 1997. While a few of us are still involved today, we look forward to the tradition continuing with future generations of stream cleaners as well!