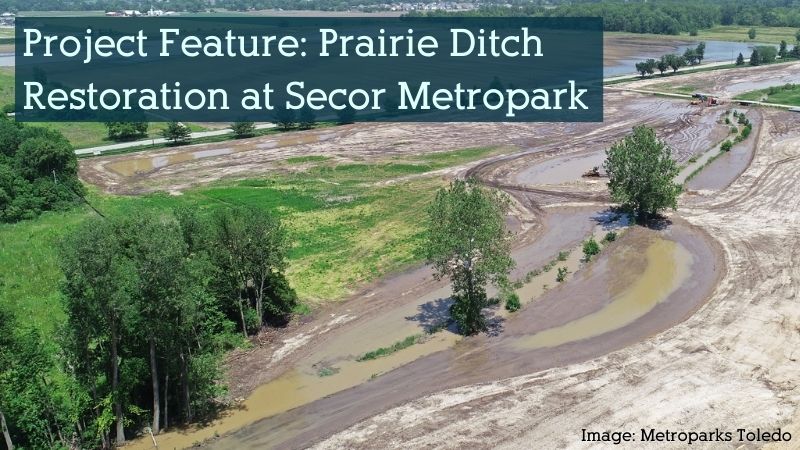 Metroparks Toledo is working to improve a section of Prairie Ditch within the expanded boundary of Secor Metropark, addressing BUI 6 (Degradation of Benthos), and BUI 14a (Loss of Fish Habitat). Secor Metropark includes over 600 acres of Oak Openings habitat in areas currently open to the public, containing walking trails, a visitors' center, and picnic areas.
The Secor Metropark expansion project began in 2020 when two former golf courses were purchased by Metroparks Toledo. Restoration work on the Secor expansion is a large undertaking composed of many smaller projects wholly supported by different grant funding mechanisms.
AOC funding supported purchasing an important piece of the property and in adding habitat through upland vegetation. Additional AOC funding added a new focus for the AOC as an aquatic habitat project that will restore approximately 3,500 feet of instream habitat. Stream improvements include floodplain expansion, creation of streamside wetlands within the floodplain, riffle construction (shallow places where water runs fast and is agitated by rocks), and selective planting of native trees, shrubs, and other plants. Management practices include restoring natural curves to the waterway while creating shallower streambanks to promote bank stabilization and re-connection to the floodplain. These earthworks decrease the negative effects of past stream channelization, and prevent loss of sediment due to erosion, maintaining the character of the habitat for years to come.
As of the end of July 2022, most of the work on and along Prairie Ditch is complete, with just a little more planting and seeding and cleanup work to be finished this fall. Although the area is not yet open to the public, in several years, the former golf courses will be transformed through restored stream channels, new floodplains, wetland and pond areas, prairie and woodlot areas, and thriving wildlife as an expanded portion of Secor Metropark.